The annual Speexx Exchange conference for L&D
The annual Speexx Exchange conference for L&D in Berlin took place in late November this year, with over 150 HR and L&D experts in attendance, it was a day filled with learning, networking and peer exchange. The conference is in its ninth year and was led by digital learning expert and Towards Maturity founder Laura Overton.
This year, attendees and members of the L&D community explored the topic of learning transformation and shared benchmark reports, worked together to collectively discover new solutions to the challenges the community is facing, discussed learning trends and new HR tech, and traded best practices on how to prepare for the ways in which learning transformation is changing HR and L&D.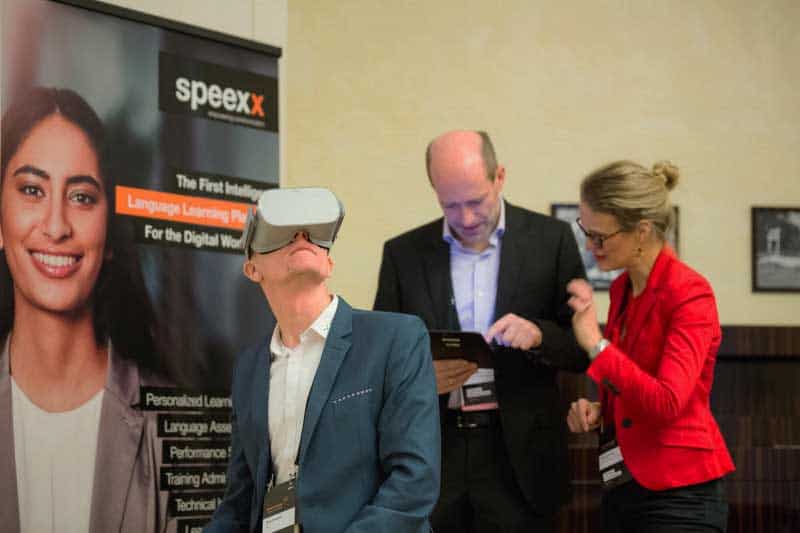 A new element was added to the L&D conference this year, the ''Experience Room'' – giving attendees the opportunity to learn firsthand how gamification through use of VR is shaping learning transformation.
Nine digital learning experts and thought leaders hosted interactive sessions and spoke on various topics surrounding learning transformation. It was a full day packed with insightful discussions and all attendees working to define what drives success in corporate learning, HR and business.
Join the conference for L&D
Visit this page to see a full list of speakers and the Speexx Exchange agenda. If you're interested in joining the discussion and hearing from thought leaders in HR and L&D, register now for Speexx Exchange 2020 in Berlin and join the conference for L&D, where we will continue to tackle new challenges in the industry and discuss best practices and emerging learning technologies and trends. Take part in the Speexx Exchange Survey and let us know what your challenges and important topics of HR and L&D are in 2020. Participants also have the opportunity of winning a Microsoft Surface Pro Tablet and access to the Speexx language learning solutions!