Putting The Humanity Back Into HR
Refocusing workforce management in the new normal
The role of the HR and L&D professional has been intensely put to test as the world is learning to live in the new normal brought on by the pandemic. It is time to develop a strategic view. Download this whitepaper and learn how you can support your teams during this accelerated digital transformation, providing them with the necessary skills to successfully adapt to the new way of working.
Whitepaper | Putting the Humanity Back into HR
Learn how to put back humanity in HR
How to support business success with soft skills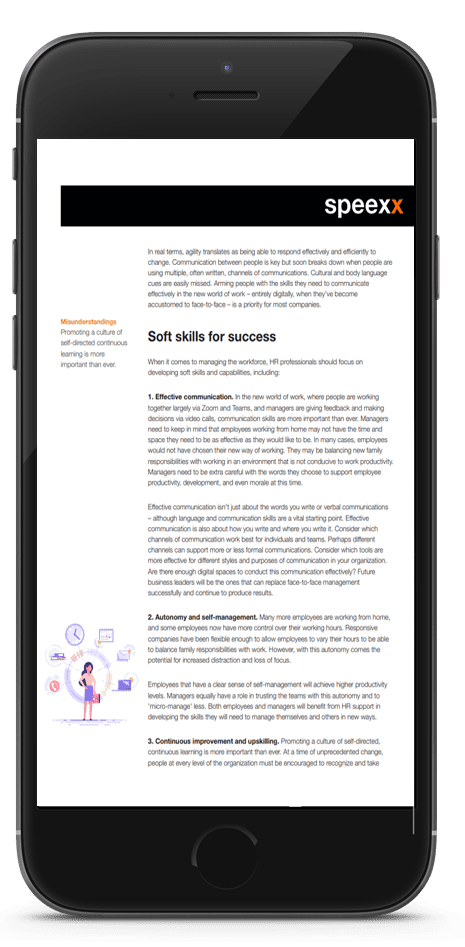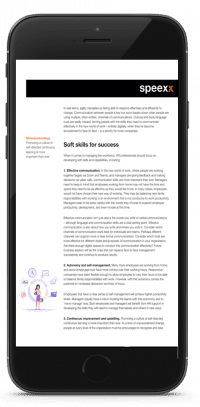 How to support business success with soft skills
Soft skills are now crucial to effective working. Soft skills, ranging from leadership and negotiation skills to language and communication skills, hold the keys to business success in this new normal. Companies must communicate with and manage stakeholders – including workers, of course, but also customers, suppliers, and the wider community – with humanity.
Communications must reflect a recognition of the pressures people are under. As humankind goes through a common crisis, individuals are each affected differently. HR and learning professionals have an important role to play in supporting the workforce and enabling people to develop to meet changing circumstances at work and at home. Human soft skills are increasingly vital to good communications.
Companies are hiring people who have good people skills, on the basis that technical competencies can be taught. However, soft skills ranging from leadership and negotiation skills through to language and communication skills can – and should – be taught, too.
Business agility has been tested this year. In many cases, this is because companies' approaches to business agility do not sufficiently include employees. In 2019, Gallup surveyed thousands of employees and found that only 36% of employees in the UK and France felt their company had an agile mindset. One year later, during COVID-19, these figures dropped to 26% in the UK and 28% in France.
In real terms, agility translates as being able to respond effectively and efficiently to change. Communication between people is key but soon breaks down when people are using multiple, often written, channels of communications. Cultural and body language cues are easily missed. Arming people with the skills they need to communicate effectively in the new world of work – entirely digitally when they've become accustomed to face-to-face – is a priority for most companies.
You might also be interested in
e-book 
The Rise of the Remote Workforce
How can organizations quickly and effectively set up their remote teams for success? International organizations, in particular, are under increasing pressure on a global level, to further increase employee engagement and productivity. Companies with foresight do not react to this with even more pressure, but by setting in place flexible and agile organizational structures, ready to adapt to the needs of a remote workforce.