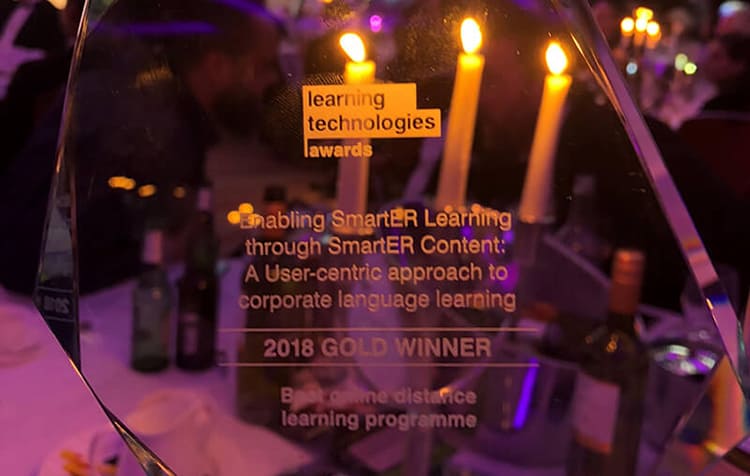 Speexx Wins Best Online Distance Learning Programme – Again, 10 Years Later!
At the highly-anticipated annual Learning Technologies Awards, held in London on November 21, a glittering night was made even more special as Speexx took home Gold for Best Online Distance Learning Programme.
The judges, who awarded Speexx with this very same award 10 years ago, mentioned that the Speexx Smart Learning solution effortlessly excelled in all criteria for this category – in no small part due to its "user-centric approach to corporate language training."
After a decade marked by significant changes in the workplace, technology and student behavior, the award is a testimonial to Speexx' ongoing innovation within the company and its products. Armin Hopp, President of Speexx, says the team is "honored and excited to receive the award once again" and that they will "continue working hard to offer the best solution for online distance learning."
More about the Learning Technologies Awards
Learning professionals from all over the world gathered at the Park Plaza Westminster Bridge Hotel in London, UK, on 21 November to celebrate the very best in learning technologies, and witness 64 gold, silver and bronze awards being given out to worthy winners. The evening was hosted by comedians Deborah Frances White and Sindhu Vee.
The award was received by Armin Hopp, on behalf of the Speexx team. For a complete list of awards granted to Speexx, please visit this page.