Five Must-Have's For Innovative Language Training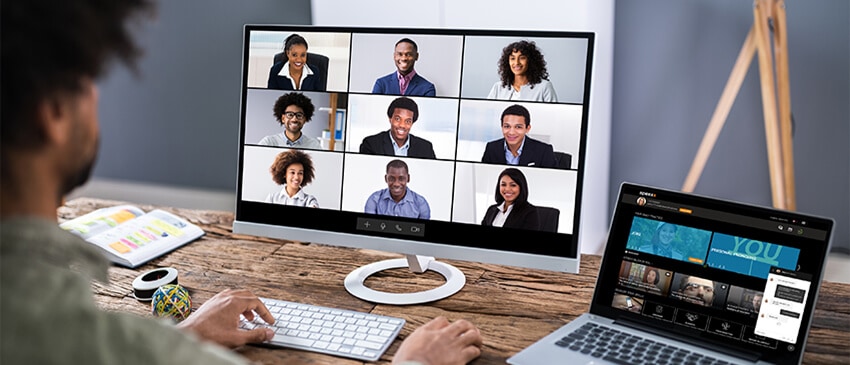 For years, corporate language training has been done through language training providers who offered traditional instructor-led language courses, which was most likely done in a classroom or office setting.
Today, we see lots of providers going digital. When it comes to innovative language training, AI, Netflix-like presentation and targeted content, integration into platforms like MS Teams, or your LMS are just the basics. This is what you can expect from the market. But there is more to this than just fancy names and marketing clutter. At Speexx, we have been in digital language training and AI for more than 15 years.
One might even argue that we invented this.
Make change and innovation work for you!

As a result of recent events, language training often does not even have the option to be face-to-face. But this doesn't mean it should stop altogether. We have the experience of more than 8 million users learning a language with Speexx. We know that being in an environment where a professional trainer facilitates interactive conversation does help drive language learning. What most L&D professionals are now coming to realize is – language training does not need to be in a traditional classroom setting for it to be effective.
A digital language training program is the best solution to assess current needs and ensure continuous language learning most effectively and conveniently for the learner – plus, it is safe and available for everyone at any time.
So, don´t just jump at the next best revamped digital or face-to-face solution. From our experience, we'd like to share some advice on the top five "must-have's" to ensure robust and innovative digital language training and learning as more organizations make the transition from face-to-face to digital language training.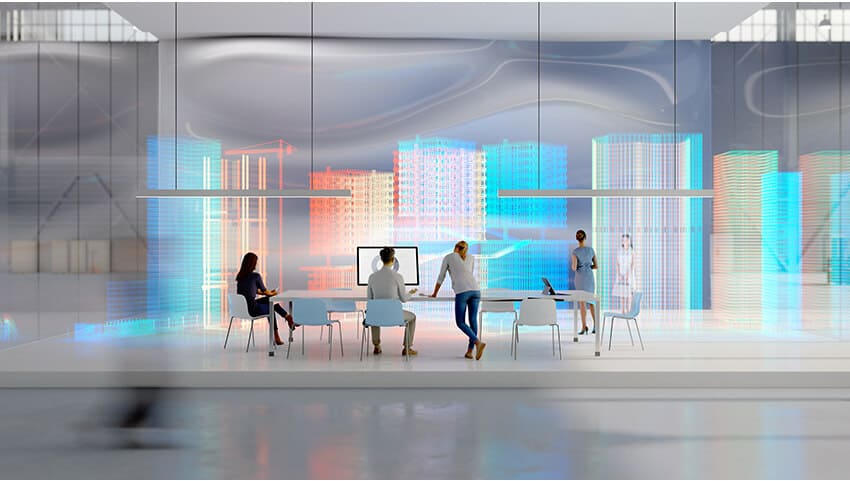 Five steps to innovate your language training
1.

Use AI to allocate your budget
Okay, it's not exactly "sexy" to lead with budget, but financials can't be ignored. Shifting from F2F to digital can be, with standard tech, very expensive. However, research has shown that shifting to online training (either 100% or with a blended approach) does result in being very cost effective, according to a report by Judith B. Strother.
Fortunately, Speexx' AI and Budget Matching Technology gives organizations the best values for users, business and budget.
Speexx AI precisely identifies and provides micro- and microlearning content hyper-personalized and relevant to job roles, professional goals and skill levels. This Budget Matching Technology allows companies to align training budgets with real skill gaps in their workforces and business needs, driving ROI on L&D and getting the best results – for all users.
In this way, you will be able to see immediately how your digital language training investment impacts your organization.
2. Make use of artificial intelligence and integration

Now, AI is sexy. And guess what? It can amplify digital learning efforts. It brings the opportunity to develop more immersive, personalized learning experiences (more on this personalization aspect below) while also automating tedious admin tasks.
We discuss some of these pesky tasks in the point above – budgeting – but AI can also help organizations analyze learner behavior (analyzing skills gaps; presenting targeted recommendations; automated content scheduling; and so on).
At Speexx, AI isn't a buzzword. We've long understood the one-size-fits-all product of the past isn't ideal. We use AI to provide personalized learning and spaced repetition for vocabulary training, as well as for writing, listening and pronunciation skills. For pronunciation in particular, we developed a proprietary speech recognition software specifically for the purpose of learning a language.
We also use AI to predict user behavior. One example of this is our intelligent system response to potential drop-outs. Based on anonymized data from our eight million professional users, we identify user behavior patterns and then take targeted, customized action to prevent users from dropping out.
And finally, AI allows you to drive the impact of training and digital transformation. This kind of technology, while still foreign for many in L&D, is still one of the best ways to make your job easier and to give you the freedom to focus on what you can do.
Integrate Training with MS Teams or your LMS

You expect every language training provider to integrate their solutions in LMS or collaborations tools like Slack or MS Teams. Go the extra mile and integrate learning right into the flow of work. Look for a provider with a team of solution architects, customer success managers and instructional designers to integrate language training into your specific L&D workflows, collaboration platform, LMS or recruitment system.
If you want to speed up the rate of learning in a digital language training program, there is no way around it. Artificial intelligence can support you to make better decisions for your business, and for your users to quickly achieve success.
3. Master personalization with learning technology

With online learning rapidly replacing its face-to-face counterpart, course design strategies need to be rethought. People have limited time and attention spans so learning needs to be personalized, tailor-made to fit people's needs.
Personalized learning refers to customizing learning and being thoughtful about the pace at which it occurs to meet individual needs, goals, circumstances and challenges. Users should, to stay motivated, have a say in what, how and when online learning takes place.
Speexx AI joins forces with Speexx's language experts and your subject matter experts to identify and create hyper-personalized content and topic focus for training sessions adapted to the needs of your organization. For instance, the Speexx Vocabulary Center is pre-loaded with words most useful to your organization (e.g., train-related vocabulary is included in training sessions for a railway companies). Speexx customizes the tool with a company's glossary and vocabulary.
4. Use AI and coaches in video training
With digital language training, video training is paramount. Especially now, when everyone is working (and learning) from home! Speexx has long understood the huge demand for an effective, yet very simple video platform.
We've revamped our video training with our new VideoLab, to help organizations ease into this "new [digital] normal." Speexx VideoLab is the first AI-based video platform for personalized business communications skills training. VideoLab prepares users to speak and communicate with confidence in virtual settings as well as in real-life. They can practice foreign languages without anyone watching, feeling safe and secure in a private setting.
The app provides personalized and detailed feedback on real-life business situations. AI and personal coaches (and here we also introduce engaging, safe human interaction that still lets people practice with privacy) work together to provide immediate feedback. VideoLab is embedded into the Speexx digital language learning user experience and works across all desktop and mobile platforms.
5. Real writing skills training with AI and coaches