5 Tips for Adapting Digital Content for Remote Workers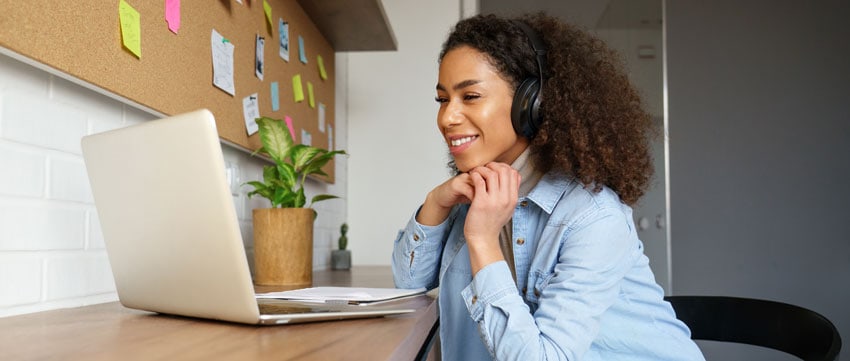 The challenges facing L&D and HR professionals in 2020 are changing all the time. In the current global circumstances, L&D professionals are making a rapid transition adapting digital content from face-to-face to digital learning to support employees to learn from home.
Along with Donald H. Taylor, chairman of Learning Technologies, the Learning and Performance Institute, Speexx carried out a global sentiment survey in recent weeks. We wanted to find out more about the challenges L&D and HR professionals face while supporting employees who learn from home and are working in virtual teams. We asked training professionals what they think will be the three biggest challenges for corporate L&D in the new age of learning from home.
L&D adapting digital content in the age of working from home
The survey, 'L&D in the New Age of Working from Home', revealed that corporate HR and L&D professionals have met immediate challenges in the transition from face-to-face to digital learning. The top three challenges cited were 'driving participant engagement', 'adapting face-to-face learning to digital learning', and 'making technology work for everyone'.
Respondents were least concerned about privacy policy issues, and only 3.5% mentioned data privacy issues as a top concern. It seems likely that while respondents must take these factors into account, not least for compliance reasons, they are confident that remote and cloud-based learning platforms handle employee data safely and securely.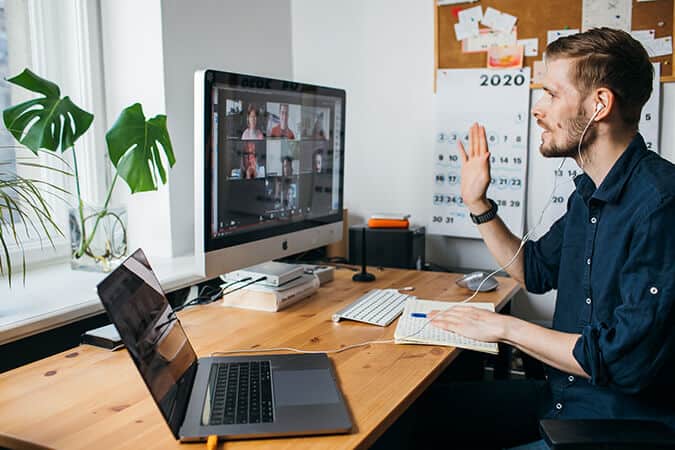 Supporting employees adapting to digital content
Of course, it is not only the HR and L&D department that is addressing the challenge of employees working remotely from home. Businesses are developing new ways of communicating remotely, both internally and with customers and suppliers. When employees are only communicating digitally and not in person, a whole new set of skills come into play. Soft skills – ranging from collaboration and leadership skills, right through to language and communication skills – are key to making digital communications technologies effective.
If your organization is supporting online learning and communication, Speexx recommends the following five actions to support your workforce to adapt to digital content and learn remotely:
Adapt face-to-face learning for digital delivery
Distance learning has already begun to replace traditional attempts to varying degrees across different companies worldwide. If your organization has, until recently, been making a lot of use of classroom training, pivoting to online learning may not be as challenging as it first appears. There is no need to reinvent the wheel. Tap into the knowledge of suppliers who have already addressed all the implementation issues at global scale to get your learners up and running with effective digital learning quickly.
Maximize video communications to support peer mentoring
Blended learning, a mix of digital classroom learning, and on the job experience and mentoring, is the most effective mode of learning delivery, especially to build soft skills. It is a good idea to set up informal video cafe sessions over Zoom or Teams to enable colleagues across the world to chat with each other and build their business communications skills. This not only includes spoken foreign language skills, but also the cultural and body language aspect of communication.
Drive participant engagement with relevant content
This is particularly important during the current global circumstances. Learners may be working in sub-optimal conditions and coping with new worries. They will quickly switch off if the content does not seem necessary or relevant. Learning content that reflects current realities, however, will be highly engaging.
Work with IT to ensure everyone is able to learn digitally
If a home worker does not have the bandwidth for video learning, for example, might it be possible for the IT department to provide Mifi (mobile Wi-Fi)? Another route might be to deliver less bandwidth-heavy content by replacing video elements with graphics.
Ensure line managers use communication tools to support learning objectives
Some companies are only just getting to grips with managing dispersed, remote teams. Once everyone is routinely using video collaboration tools, it would be a good time to get line managers to help set learning objectives. If employees need to improve their written skills in a second language for example, it would be helpful if their manager could set the context for that. Perhaps communication via email has taken the place of phone calls or face-to-face meetings, and sales figures are falling as a result.