Navigating General Data Protection Regulations in L&D
As data protection regulations are being standardized across the European Union, companies looking to implement digital learning solutions and cloud-based employee performance analytics on a global level are likely to hit the issue of data protection head-on. This paper offers HR and L&D professionals some guidelines for dealing with this challenge effectively.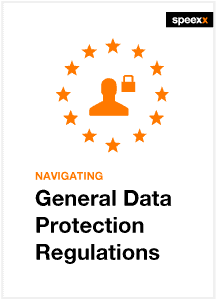 In this white paper you will learn
Which data protection risks do L&D Managers face when implementing global learning solutions for their workforce?

What are the local challenges across different countries?

What can HR and L&D Managers do to avoid compromising personal data and how do they select the right vendor?
About Speexx
More than 8 million users in 1,500 organizations – including Saint-Gobain, UNHCR and Credit Suisse – use Speexx to learn a language smarter and deliver results on time. Speexx is easy to use and scales to the needs of users and training managers in organizations of any size. The Speexx branded Perfect Blend integrates online business communication skills training, mobile and social learning, expert coaches located throughout the world and personalized live online activities into one fully standardized, globally consistent learning experience.