Stay or go? Whether and when employees ask themselves this question is no longer an easy question for organizations to answer as jobs become hybrid, flexible, or even remote, and face-to-face contact decreases. With the increasing variability of employment, the issue of employee retention is also becoming more complex.
Why it is worth looking at and what measures can help?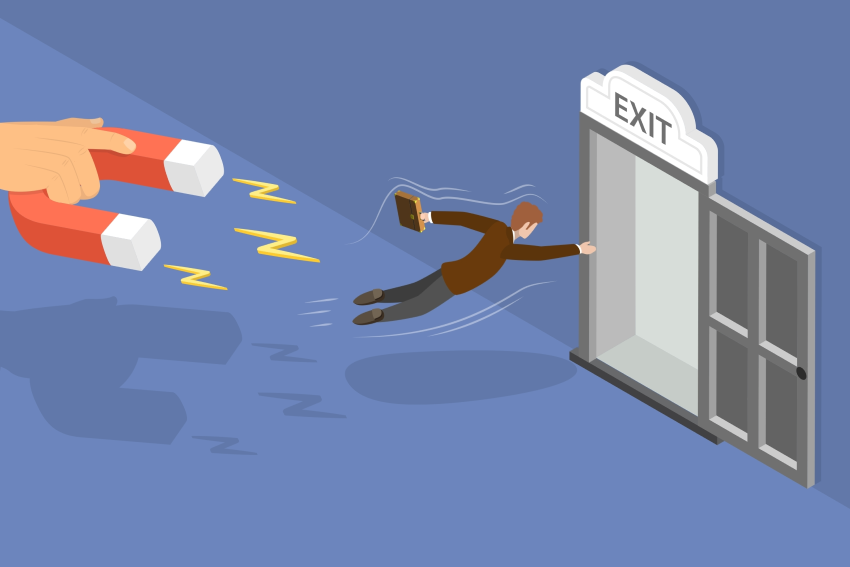 Let's start with some simple figures. According to Gallup, low employee retention costs around 11% of global GDP, making it a global challenge. The same study shows that only 16% of European employees feel a strong emotional attachment to their employer. The rest, as they say, are on the move, leaving at the first opportunity. "Quiet Quitting" or "Great Resignation" are the headlines we read about this. What's behind them?
Individual flexibility is still desirable
The pandemic left its mark. Lockdown sent employees home to their offices. This took a lot out of everyone. Instead of seeing each other daily in the office, video calls became the norm. You got to know your colleagues' kitchens, living rooms, bedrooms (and pets!), depending on where they had set up their home offices. Despite this distance and loneliness still abounded.
Everyone worked for themselves. Employees dealt with the new situation, which definitely had some important advantages. Working from home gave families with children and dependents more flexibility. Doing a quick load of laundry on the side? No one will notice. Help the children with their homework? Caring for animal companions? It's much easier if you're sitting next door working on your computer.
By the end of the pandemic, it was clear that people would not be able to return to the office full-time. Employees at Apple and Amazon started petitions against being forced to return to the office, whether full-time or just daily. In Germany, only 13% of employees wanted to return to the office in 2022. Around a third of employees would even give up their job if forced to return to a permanent on-site position in the company.
People come into companies, and they go out of companies
Leadership in the hybrid environment is a challenge
"People come into companies, and they go out of companies" is a much-quoted phrase attributed to corporate leadership thought leader Reinhard K. Sprenger. Indeed, managing employees remotely and in hybrid work environments is a challenge for which many managers are ill-prepared, partly because many leadership development programs still focus on the traditional workplace and organization.
There is a lack of the professional and communication skills needed to build the same level of trust in the virtual space as in the face-to-face area, to show and express appreciation, to organize work, and to monitor or control performance in a way that is present but not perceived as unfavorable. According to a recent study, the ability to give and receive trust, empathetic, and appreciative leadership is essential. Motivating employees, giving them security, and at the same time encouraging their creativity to remain innovative as a company takes more time and persuasion from a distance.
It is also particularly challenging to build strong teams when you are not looking at everyone simultaneously. If you want to show empathy in a hybrid environment and maintain the professional distance to establish a leadership presence, you also need to master technology. There is a difference between seeing each other in person and exchanging a few words in passing. In the virtual office, you don't just bump into each other in the corridor. Managers increasingly need to become digitally competent change and development facilitators for their employees.
Do managers have the skills to do this in an environment characterized by disruption and change? Only a minority of employees worldwide (23%) are convinced that they do, but since we know that good leadership is a decisive factor in employee retention for up to 98% of employees, there is still a lot of work to be done.
Business Coaching Teaches Managers About Employee Retention
Get your personal copy of our latest whitepaper on online coaching and learn more.
Learn more!
Thank you for your request! In a few moments you will receive this content in your email inbox.
Please provide a CD form key