Training the Digital Leaders of the Future
How HR and L&D can grow digital gurus from within the organization
Download now!
Where organizations are going wrong with digital transformation

The inside track for soft skills-based digital transformation

How to grow your own digital guru

Digital transformation is never done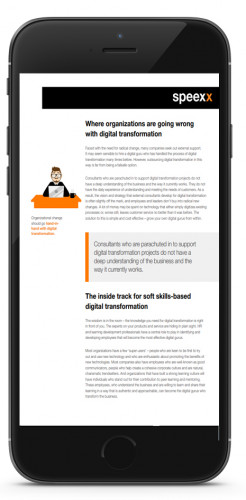 Where organizations are going wrong with digital transformation
Consultants who are parachuted in to support digital transformation projects do not have a deep understanding of the business and the way it currently works. They do not have the daily experience of understanding and meeting the needs of customers. As a result, the vision and strategy that external consultants develop for digital transformation is often slightly off the mark, and employees and leaders don't buy into radical new changes. A lot of money may be spent on technology that either simply digitizes existing processes or, worse still, leaves customer service no better than it was before. The solution to this is simple and cost effective – grow your own digital gurus from within.
Digital transformation is never done
Many companies have already started their digital transformation projects. It is not too late for these companies to review their approach and to develop a pipeline of digital gurus armed with the necessary soft skills to move forward with their efforts. Building agile teams to lead the digital transformation is the only way to keep up with continuous changes and make sure those changes benefit your company.
Skillsets change along with new digital technologies. HR and learning professionals might ask themselves "Am I able to assess the changing needs for learning and development within my workforce, and can I keep track of them and adapt my training to those needs accordingly?" It is vital to have ongoing visibility of the skills that are needed and to address these with appropriate and effective training options for your employees.
More Whitepapers, eBooks and Infographics from Speexx