How Does Design Thinking Apply to HR?
White Paper | How Design Thinking improves Learning & Development
Design Thinking must become an integral part of HR strategy if E-learning at work is to be successful. Discover how adopting a user centric approach and focusing on employee experience can help drive engagement and success in L&D programs.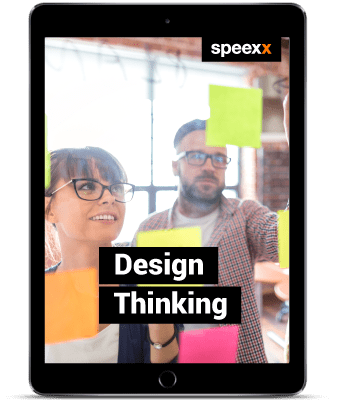 In this white paper you will learn
The five key stages in Design Thinking

How you can use Design Thinking to leverage learning technologies for increased employee engagement

The three design essentials you need for a successful mobile-first L&D program

How Design Thinking applies to HR & learning development
Explore our Blog
Each year the HR and L&D community meet in Berlin to talk about learning transformation in HR and L&D. It's a day filled with learning, networking and peer exchange. This year, for the ninth annual Speexx Exchange conference, members of this dynamic community explored the topic of learning transformation, led by digital learning expert and Towards Maturity founder Laura Overton.
The limitations of AI are related to the parameters of its data. As with all computer systems, AI is only as good as the data on which it is based. So, decisions based on data soon run into trouble if they don't consider all the parameters. Intelligent recruitment and performance development systems tend to focus on hard skills, such as technical qualifications and certifications. More often than not, they do not take account of soft (or behavioral) skills, partly because these are perceived as hard to measure.