Boosting Skills for
Successful Global Delivery
The International Organisation for Migration (IOM) works closely with governmental, intergovernmental and non-governmental partners, providing services and advice to governments and migrants. IOM's structure is highly decentralized across the globe. This has enabled the organization to acquire the capacity to deliver an ever-increasing number and diversity of projects for member countries. Effective language and communication skills are essential for successful delivery of these complex projects.
Delivering Effective Global Services Through Diverse Language Skills
In 2016, IOM was looking to continue enhancing the language skills of IOM staff members in its three official languages, English, Spanish and French. As well as supporting staff with their daily workflow, it also wanted to enable employees to enhance their internal career development opportunities. At that time, IOM did not have its own online language program. It worked with staff members to identify their learning needs and then provided a small stipend for them to register with recognized language academies. However, this was not covering the needs of skills acquisition that IOM needed, especially as IOM's workforce is decentralized, and many staff members are working in remote locations around the world. E-learning works well for these employees, but it must operate and be accessible across low bandwidth internet connections.
The Staff Development and Learning Unit wanted to go the extra mile to make sure that employees were completing e-learning and to ensure a good return on investment in learning and development. After a competitive selection process, IOM selected the cloud-based Speexx solution because of Speexx' focus on driving results. The Speexx e-learning dashboard allows Staff Development and Learning to see clear management information showing how learners are progressing through their training program and take action on that.
An Integration Partnership
"From the beginning, Speexx has been an important ally for my Unit, rather than just supplying a technology solution. I am very pleased with the results." Daniel Redondo, Head Staff Development and Learning, Geneva, Switzerland
Speexx is now available to IOM staff, helping the inter-governmental organization develop language and communications skills. Speexx offered a consultative approach that met all those needs. The Speexx solution also adheres to the Common European Framework of Reference for Languages – and the UN's language proficiency table – both key requirements.
Initially, IOM enrolled a pilot group of learners on to the Speexx platform. To support staff undergoing self-paced learning Learners from this pilot group had access to a coaching feature, the personal coach option for a workforce on the move, while some learners used live online learning functionalities, a powerful combination of interactive courseware and virtual teaching with a live instructor. Employees welcomed these features of the Speexx solution, which have driven engagement with the learning and improved learning completion rates within the target time frame.
The project was rolled out in IOM's Geneva headquarters and included learners distributed across two administrative centers in Panama and Manila as well as nine Regional Offices spanning the globe.
Skills Boost Drives Engagement and Mobility
Now, language and communication skills training courses have become so popular among IOM staff that there is a waiting list and the Staff Development and Learning Units prioritizing course delivery to employees most in need of training. The Speexx solution is delivering digital learning in, among other places, Zambia, Jordan, Thailand, Yemen, Egypt, Argentina, Austria, Belgium, South Africa, Nairobi, Philippines, Panama, Senegal and the USA.
When IOM asked for feedback on the new language learning delivery through an internal survey, employees widely reported that their skill level has improved because of the language courses. Of the learners involved in the pilot project, 81% of learners successfully achieved their learning goal. IOM is planning to roll out an increasing number of language and communication skills digital e-learning programmes in the coming years.
As migration issues continue to take center stage, IOM faces a growing challenge in helping governments and beneficiaries to meet the needs of a rising number of migrants throughout the world. The ability to deliver accessible, flexible and effective language and communication skills learning is critical to the success of IOM's operations. Working hand-in-hand with Speexx, IOM is now in a better position to address the significant global challenges it faces.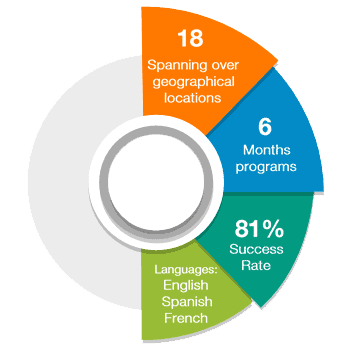 The International Organization for Migration is the leading inter-governmental organization in the field of migration It has 169 member-states and offices in over 150 countries and more than 400 field locations with over 9,000 operational staff.