What does Success in Learning Look Like?
White Paper | How to Drive a Culture of Engagement
Only 28% of L&D professionals evaluate learning success based on customer satisfaction and employee retention. Where is L&D still going wrong and what should the main priorities be for a successful learning organization? How far along are global organizations when it comes to digital transformation and what does data say about the future of L&D?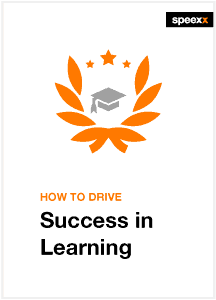 In this white paper you will learn
how you can leverage learning technologies for employee engagement

why you should create a culture of self-directed learning

what are the top five keys to learning success

how global HR and L&D professionals achieve success in learning delivery
What is the Speexx Exchange Survey?
The Speexx Exchange 7th annual survey was based on a sample of almost 700 global HR professionals (HR and L&D managers, training managers and consultants) and C-level executives, and conducted during a period of five months, as well as during a live survey session at the Speexx Exchange Conference. The feedback was equally based on organisations from small, medium and large enterprises.