Infographic
Six HR and L&D Goals

Download this exclusive infographic about the key HR and L&D goals and see the what most relevant trends in the field are for this year. Together with experts in our network, Speexx has put together a unique resource that will help you build a strong and efficient talent management strategy in your organization. Get your own digital copy and find out what successful HR and L&D professionals across the world consider to be the most important objectives this year.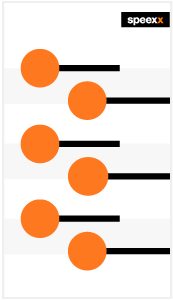 How can you improve employee engagement and employee experience?

What is the role of Big Data and analytics for HR 4.0?

How can you bridge the generation gap and set up an effective team model?

What is the status of digital transformation in 2017?
Measuring ROI in Employee Development
Return on investment (ROI) calculations are a means to determine the value of training in terms of an individual's personal financial gain. Increased employee development hours should correlate with increased employee satisfaction as well as higher profit margins. In this video, Armin Hopp looks at what HR professionals should consider when measuring ROI in employee development and what processes can be put in place.