Infographic | The L&D Skills Gap
6 Key Skills You Urgently Need to Improve
The annual benchmark conducted by Towards Maturity asked over 5,500 global HR and L&D leaders what the must-haves skills for L&D professionals are and which of those skills are currently in place.
Download this infographic and find out the what the results are. How wide is the gap between vision and reality? And which skills should you improve urgently? 
Download the Infographic now for more information!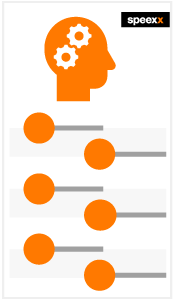 Is L&D effective at influencing talent strategies and delivering tangible results?

How big is the skills gap when it comes to L&D professionals?

What are the skills in place at top-performing companies?

What are the top six priority skills to start developing now?
Building Skills to Support Corporate Goals
Learning and development is most effective when it sits right at the heart of the business. L&D professionals are increasingly aligning themselves more closely with strategic goals and matching learning and development delivery to what business and the learners need in their day-to-day workflow. In this video, Armin Hopp, Founder and President of Speexx offers practical tips to help HR directors and managers build the right skills to support corporate goals.