Speexx

Announced in Top 10 for G2's List of Best Germany Software Companies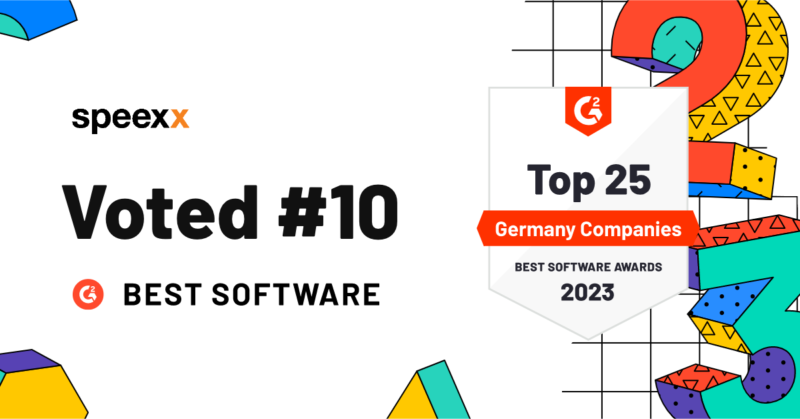 Munich, February 9, 2023. Speexx,  the leader in digital on-the-job people development, has been announced as a Top 10 G2 2023 Best Software Awards winner. 
Speexx placed at number 10 in the top 25 Germany Software Companies list, which features companies such as SAP (#1), Personio (#17), and Siemens (#18).
Now in its seventh year, G2's annual Best Software Awards rankings have been dubbed the "B2B software industry's version of the Academy Awards," showcasing market leaders and disruptors and reflecting the priorities of software buyers. 
Based on authentic, timely reviews from real users, G2's Best Software Awards rank different regions' best software companies and products across a range of categories — including the list for the Top 25 software companies in Germany. 
"We're delighted to be a G2 Best Software Awards winner for 2023, and even more so to have made the 'Top 25 Germany Companies' list in the top 10" said Armin Hopp, President and Co-Founder of Speexx. "We know that genuine customer reviews and testimonials are vital for our buyers, and they know that an award from G2 of this caliber is a massive vote of confidence for Speexx. Thank you to G2 for this accolade and — most importantly— thank you to our users." 
G2's Best Software Awards are calculated with a proprietary algorithm and the top lists are ranked based on a combination of companies' G2 Satisfaction and Market Presence scores. 
G2 is the largest and most trusted software marketplace. More than 80 million people annually—including employees at all Fortune 500 companies—use G2 to make smarter software decisions based on authentic peer reviews.  
For more information visit: https://sell.g2.com/  
About Speexx
Speexx is the benchmark for excellence in digital on-the-job professional development. Speexx uses groundbreaking AI technology and a global network of top coaches to provide corporate language training, skills assessment and business coaching services to large organizations everywhere – all integrated with the customer´s people tech and within a safe online environment. 
More than 1,500 of the world's leading brands and organizations use Speexx for smarter language skills training and business coaching services to deliver results on time. With more than 8 million users, Speexx is one of the most widely used corporate online solutions for business coaching, skills assessment, and language training for all major business languages with ongoing support in 13 languages. 
Speexx was founded in 2011. The company has 1,700 staff and coaches and is located in Munich, London, Madrid, Milan, Paris, Sao Paulo, New York and Shanghai. 
For more information visit
www.speexx.com 
www.linkedin.com/company/speexx/ 
Twitter: @speexx