The Modern Learner: Are You Ready for The Disruption?
The disruptive technology driving the Fourth Industrial Revolution is also transforming the way we live and work. Just like all industries, HR and L&D have also gone through an intense digital transformation meant to make processes more efficient and accessible.
While the implementation of new tools and technologies has allowed for learning to be re-designed, L&D professionals still face a challenge when it comes to engaging and retaining learners. It seems that the more accessible learning becomes, the harder it is to keep learners happy.
Learn more about the top ten learning technologies in this Speexx infographic.
Professionals are more and more often left overwhelmed not understanding why the recently modernised strategy, supported by the newest technology, is not returning the expected results. There is a lack of basic comprehension that this is not the end of the transformation process and by no means enough to guarantee success.
The Greater Challenge
As a new generation of employees is entering the workplace, we are going through a second stage of the "revolution". A stage that is driven by a second disrupting factor: the human factor.
This poses an even greater challenge on HR. Organisations and L&D professionals need to explore the complex ways in which the new generation is changing the industry and the patterns of learning.
A recent research conducted by Deloitte portraits "The Modern Learner", an individual characterised as impatient, easily distracted, with a thirst for learning, but at the same time overwhelmed and often overworked.
The question is how do these characteristics influence the L&D industry? And how can organisations get ahead of the game, driving the revolution, rather than trying to keep up?
Redesign the Learning Cycle
Learning used to be seen as a long-term process which required consistency, repetition and time to settle. While all that is still true, the reality is that the digital learners are more impatient and expect shorter learning cycles.
Deloitte's study shows that most learners will not watch videos longer than 4 minutes. This is why trends such as micro-learning are becoming relevant. The modern learner is no longer willing to commit to a learning process which requires his attention for several hours.
Woo the Learner
A few years ago, the question was how to provide better content for learners and how to persuade employees to learn. This is no longer the case. The new generation wants to learn, but they are often overwhelmed with information. Also, their attention span is considerably smaller, with data showing that a user only spends 5 to 10 seconds on a webpage.
This means that L&D now needs to stand out in order to win and keep the attention and interest of learners. We need to design learning blends that are not only efficient but also attractive to learners. This change is already taking place through the gamification of L&D. By offering the same content, but transformed into a game, eLearning can now trigger the emotional side of learners, which keeps them actively engaged for longer.
Make learning appealing and they will notice you, make it fun and they will love you!
Be Flexible
One-third of full-time employees do most of their work at a different location than the employer's office. In addition, employees are moving away from a fixed work spot and their working days are fast-paced. Flexibility is, therefore, the key.
Organisations need to reach learners wherever they are. They have to provide solutions (such as mobile learning) for all possible scenarios: working in between flights, or to someone working in a remote location without an internet connection.
As Deloitte's study also shows, the Modern Learner is motivated to develop and implement his/her skills (60% of IT professionals have paid for their training themselves). L&D managers and organisations need to meet them halfway. They need to build and secure the proper context for successful learning to take place. This includes the technology, the necessary time as well as a tailor-made learning path for each employee.
The key is to understand your learners, see how they think and what their needs are. Step into the shoes of the Modern Learner and design your L&D strategy accordingly, understanding the significance and complexity of the disruptions taking place in the learning process.
Our partner, Towards Maturity, has also taken a Snapshot of the Modern Learner – Embracing Change.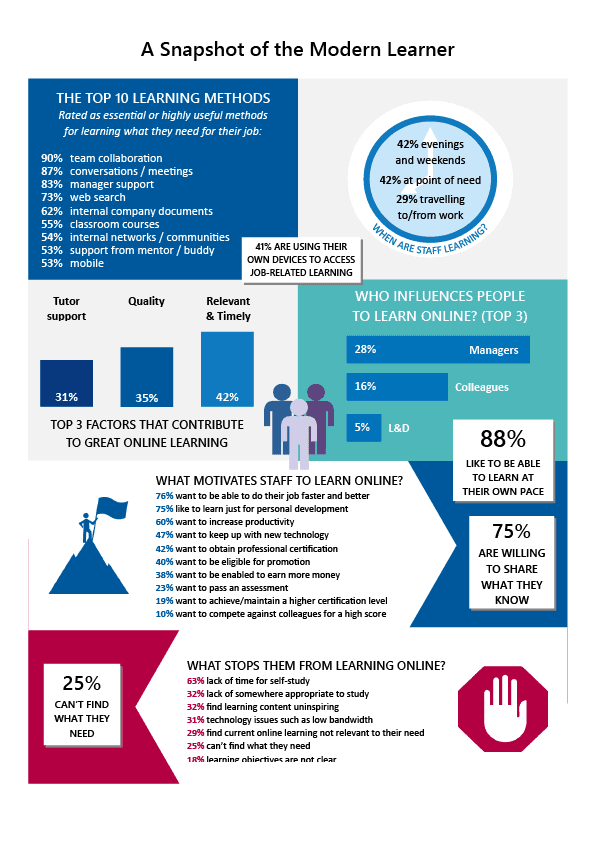 Try our Blended Learning solution and engage your modern learners.