How to Drive Value by Putting Your Business First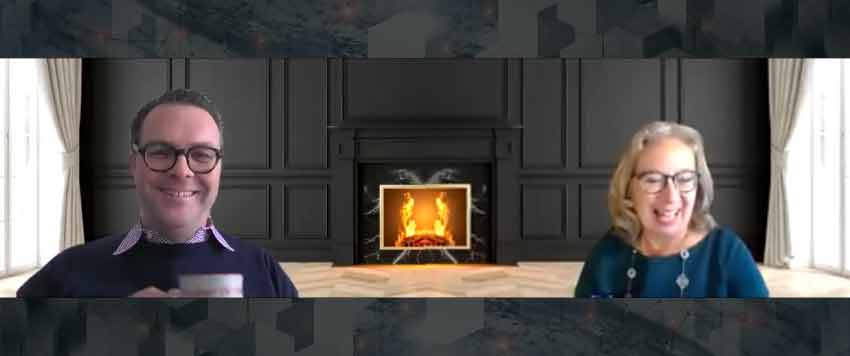 A full review of the 10th annual Speexx Exchange Conference: First-ever, all-virtual edition
The annual Speexx Exchange conference for L&D – typically in Berlin, in-person – took place online on December 2nd. Hundreds of HR and L&D experts from more than 20 countries around the world joined in for presentations, fireside chats, networking and conversations surrounding acceleration in digital transformation in this "new normal."
Similar to prior years, the conference was led by digital learning expert, international analyst and Towards Maturity founder Laura Overton, though on December 2nd of this year, she shared the role of host and master of ceremonies with Jo Cook, director of Lightbulb Moment.
This all-virtual event kept up the Speexx Exchange tradition of having small group working sessions and intimate discussions, as participants were put into breakout rooms throughout the day to swap best practices around topics like opportunities for driving value in this new normal. We are pleased to report positive feedback from our participants, who noted: 
"Your hosts were really good at making participants feel welcome."
"The sessions were the right length."
"The choice of different experts from different disciplines was excellent."
"Positive atmosphere, lively moderation, very interactive, high professional level."
"The activities were varied, fun and relevant."
In this blog article, you will get a first-hand look at each of the topics, speakers and the virtual exchange of information on driving digital transformation in the new digital normal in L&D.
The acceleration of digital transformation: Our time is now!
The event began with a motivating presentation from Laura Overton, who set the scene for our day by discussing the role of L&D adding value back to the business. Her discussion highlighted the importance of valuing what we do as learning professionals and how we measure the impact of our work. "As L&D professionals, as people professionals, we've had an opportunity to add a different kind of value this year," explained Laura. "If we keep business first, that's where we will add our most value, and that's why I believe our time is now."
Laura's opening talk sparked much inspiration for us all, which resulted in some highly interactive discussions in our first breakout room session.
We then heard from Novartis' Head of Global Learning Design, Mirjam Neelen, who explored how to best use scientific evidence to accelerate performance (she also has a great book on this topic, entitled Evidence-Informed Learning Design). Mirjam shared wisdom on how she designs learning for complex tasks; addressed limitations people might come up against when designing for complex tasks; and advised breaking tasks down into separate elements.
Hot on Mirjam's heels were Rolf Reinhardt, Treasurer and Board Member of ICOBC, and Jennifer Velev, HR Specialist and Project Lead of the World Health Organization. Their joint talk investigated credentials, accreditation and reimagining skills recognition – especially in the context of this new normal. Rolf reminded the audience that skills can be transferrable: Skills like teamwork, time management, organizational skills, customer service might sound like an operations coordinator, but are, in fact, the skills listed out on the CV of a waiter. Indeed, skills can apply to lots of different industries. Both Rolf and Jen dove into why it's important that capabilities get recognized.
Andreas Kambach (Area9 Lyceum GmbH's Managing Director) was up next, and his future-forward talk spotlighted how tech and AI can help measure the impact of learning. He described conscious competence (when a learner knows that he or she might have no idea about a given topic) versus unconscious incompetence (when a learner is certain he or she is right about something, but is actually wrong), and how organizations can uncover and fix this. Andreas also provided guidance on how to cut a company's training time in half, but still end up with higher proficiencies, especially when an organization is using blended learning methods.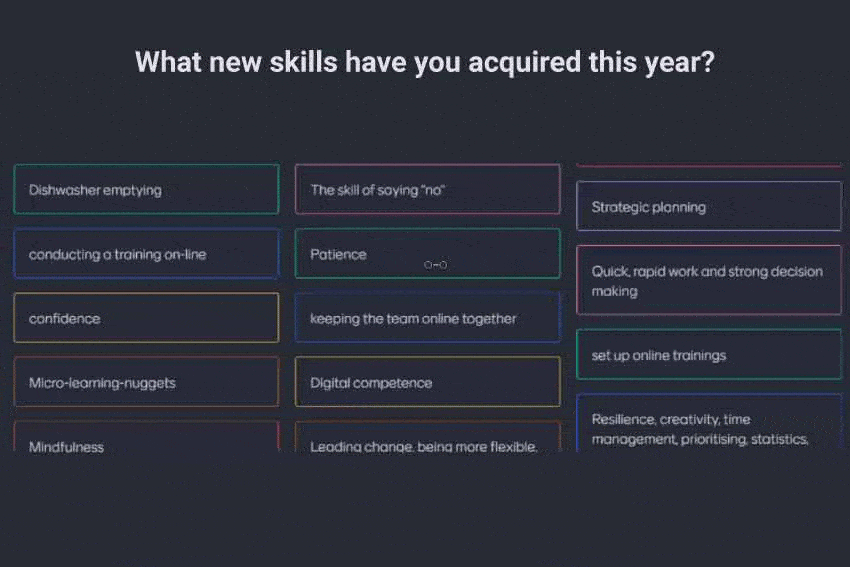 The bigger context: How an organization learns
Switching from an umbrella theme touched upon by the previous speakers (designing for learning) to how an organization learns, Winklemann's Senior Manager, Talent Management Sarah Makowski spoke about structural foundations within the bigger context – again, the way in which companies learn. She shared her own real-world, honest example of how she spearheaded her company's language learning digital transformation, and how she was met with – and was eventually able to overcome – company resistance to her push for digital learning.
Lots of Speexx Exchange participants commended her for being "so open," and displaying a tremendous amount of "self-reflection." Indeed, the lessons she shared were invaluable. She shared her personal motto: Communicate twice as much as you think you need to, and never stop.
GP Strategies' Learning Transformation Manager, Tim Burmeister, was on tap to follow Sarah's talk. He and Laura Overton did a (virtual) fireside chat on organizational learning and enabling a learning culture. (Indeed, they both sat in front of a cozy fireplace!). The pair shared their own definitions of organizational learning, discussed L&D's role in supporting organizational learning and also swapped ideas on how to get other folks in a company involved (line managers and beyond).
Tim reminded the audience that a learning culture is about a growth mindset, and the behavior that needs to change.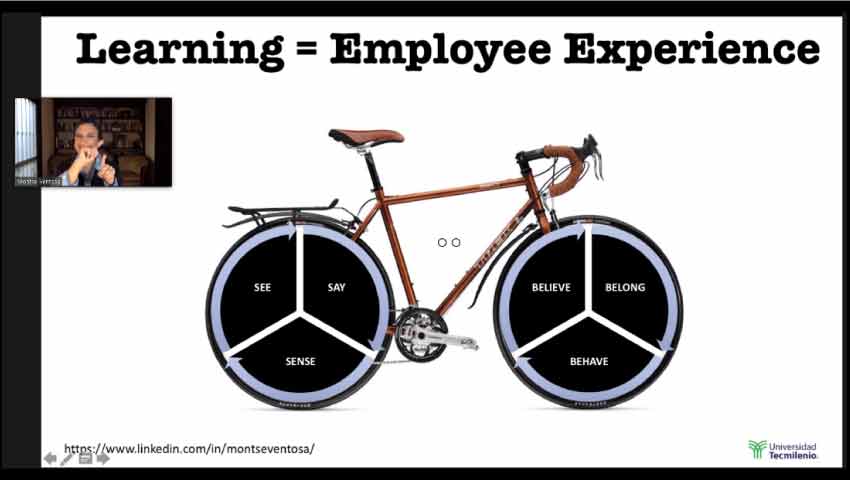 Culture & connection: Learnings from the transition to the new normal
The final talks were really dynamic, energetic and focused a lot on culture and connection in this new world. Speexx had the pleasure of welcoming both Elizabeth Lembke (Chief Talent Navigator, Transforming Talent) and Montserrat Ventosa (VP Talent, Well-being and Purpose, Universidad Tecmilenio) to the program.
Elizabeth forced the audience to think about how we, as L&D, can best be prepared for the jobs we actually need to do. She gave the audience advice on how to identify their own "super-skills" they need to hone and weigh that against their focus on tools and technical skills. Where do we, as L&D, need to be exceptionally skilled – and how do we bring this into situations (like a pandemic) that we haven't been prepped for previously? Elizabeth's talk succeeded in making everyone reconsider how they invest in their own employability and development plans.
And finally, last (but not least!), Montserrat (Montse) focused on a specific skillset (that is often overlooked or not labeled as such): Well-being. The reason for this? It's a time in history – during a pandemic, and rapid, almost overnight digital transformation – when we need it more than ever.
Well-being, she argued, provides a fertile terrain for a person to learn. When one is stressed, or burned out, he or she cannot learn. Montse shared the seven dimensions of well-being, as well as recommendations on how a person can reconnect with his or her purpose.