Speexx has a proven track record in supporting the world's leading brands with their business communication skills needs. More than 95% of our customers say they are happy with us.
Generali Group
"We think that this partnership with Speexx for employee language training is a fundamental part of the cultural transformation process for our group, which demands that we be an increasingly international group."
Barbara Lucini, Group Leadership Training, Generali Group
Rentokil Initial
"Blended Learning is the future of learning. We actually let our learners choose Speexx, which I think is really important. So they compared a number of language training solutions and the overwhelming majority said they wanted to use Speexx. So ultimately it was an easy decision for us; we just went with what our users wanted."
Richard Gregory, Head of U+, Rentokil Initial
Vodafone Italy
"Our training offer has changed dramatically over the years. We've moved from offering one course to all employees to a more personalised training solution for each employee, depending on their individual learning needs. Speexx has accompanied Vodafone throughout this digital transformation process and we would like to thank them for this excellent partnership."
Manuela Mancino, Learning Design Training Specialist, Vodafone

Brückner Group
"In the face of our strong growth and the increasing globalization, Speexx has given us a significant advantage: Our employees build their language skills with a solution that is available 24/7 worldwide and this has improved communications across the entire group."
Petra Pongratz-Kolbig, Head of HR, Brückner Group
What's your Perfect Blend?
Over the years, Speexx has received numerous industry awards and recognition that bear testimony to the quality of our services, the growth of our company and our influence within the global online language learning community.

Speexx has been awarded for the 6th consecutive time with the prestigious Worlddidac Award for the category Blended Learning. Since 1984, the Worlddidac Foundation awards quality and excellence in the educational industry. The award is an internationally recognised distinction and the winner is chosen by a jury of renowned education experts.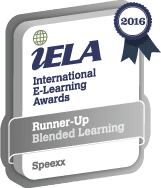 International E-Learning Association Award 2016
Speexx was announced as Runner-Up in the Blended Learning category of the 2016 International E-Learning Awards IELA. The award-ceremony organized by the International E-Learning Association for outstanding e-learning products took place at the annual ICEWL conference in New York.

APel 2015 Award
The Spanish Association of E-Learning Providers (APel) rewards high quality e-learning solutions with its Excellence in E-Learning Award on an annual basis. In 2015, Speexx secured the award in the category "Most Innovative Learning Solution".

Brand of the Year Award China
Each year, China's Training Magazine organizes two major awards: 'Brand of the Year' and 'Outstanding Brand Courses'. In 2015, over 300 organizations submitted projects, out of which 83 were shortlisted for the 'Brand of the Year' award. Speexx made it to the final round and secured the Brand of the Year Award in the 'Corporate Training' category.

LT-Innovate Award 2015
The LT-Innovate Summit is the annual point of convergence for the Language Technology Industry to network, discuss strategies and explore innovation opportunities. The Jury rated presentations based on innovation & technology excellence as well as business potential & investment readiness and selected Speexx as the 2015 winner.

International E-Learning Association Award 2015
The IELA Awards Committee look for outstanding e-learning products in terms of educational soundness and effectiveness, usability, and overall significance. In 2015, Speexx received an Honorable Mention for the Blended Learning category.
Start Empowering Communication Now!