Understanding the 70:20:10 Model
Thursday, February 8
11 am & 4 pm (CET)
10 am (ET)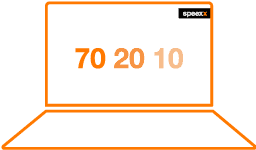 Summary 
The 70:20:10 training and development blend helps accelerate employee learning to support a changing business. Through a better understanding of network-building, modern L&D tools, and a mix of formal and informal working practices, you can lead your new team members more effectively than ever.
The PowerUp webinar series is a free service for our friends and customers. Join us for an exclusive training session with HR and Learning and Development (L&D) professionals from all over the world to talk about specific HR and talent management topics.
Sign up now, as groups are limited to 15 seats. Just enter your name and email address and pick your preferred session from the list. All webinar participants will have the chance to win an exclusive 6-month Speexx Live course.
[gravityform id="112" title="false" description="false" ajax=true tabindex=1]
This webinar offers you the chance to:
Learn how to effectively conduct interviews and negotiations with new hires, and how you can grow their potential well beyond that.

Brush up on the latest HR and L&D topics in just 45 minutes.

Meet professionals from all over the world.

Let our trainers engage you in interesting conversations on HR and L&D issues.

Work and communicate across borders with more confidence.

Best of all, it's absolutely free—with no obligations.
About Speexx
More than 8 million users in 1,500 organizations—including Ericsson, Saint-Gobain, UNHCR and Credit Suisse—use Speexx's cloud-based, language training solutions. Speexx is easy to use and scales to the needs of users and managers in organizations of any size. The Speexx branded Perfect Blend combines online communication skills training, mobile and social learning, expert coaches and personalized live online activities into one standardized learning experience.