Speexx Announces OpenSesame as Premium Sponsor for its Leading HR and L&D Conference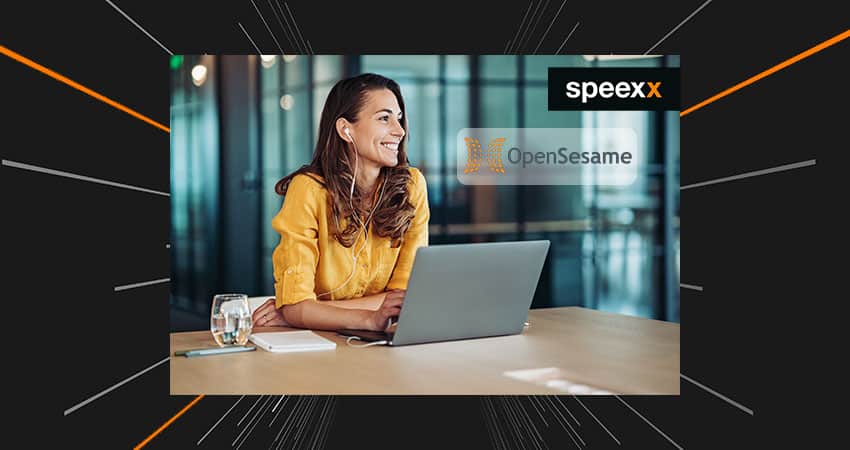 OpenSesame, a market-leading SaaS global e-learning innovator, is the premium sponsor of 11th edition of Speexx Exchange. This year's instalment of the leading HR & L&D industry event will take place as a multi-stream hybrid conference in Berlin and around the globe on December 1, 2021.
OpenSesame provides exclusive courses by connecting the world's best content developers and top subject-matter experts with its own curation team to produce courses that address the unmet training needs of today's virtual and diverse workforces. The company has developed technology that allows learning administrators to create custom learning paths for each learner with AI-curated course lists. Its platform allows learning professionals to create engaging online training courses in multiple languages that integrate with many learning management platforms.
"This premium sponsorship represents a foundation of trust between OpenSesame and Speexx. We've been collaborating with OpenSesame for several years now and we are excited to see their footprint growing significantly across both EMEA and APAC. We are extremely happy to partner with OpenSesame, have them grow with us, and cement their position as the go-to marketplace for curated content," said Armin Hopp, Co-Founder of Speexx.
Mehdi Tounsi, Senior Regional Director for EMEA at OpenSesame, will be addressing Speexx Exchange on December 1, 2021, alongside customer and Speexx user, Stéphanie Milian Martínez, People Strategy Business Partner at LIFULL Connect. Their topic will be "Working from Strong Foundations," within the context of building smarter skills solutions for the skills economy.
"It's a pleasure to partner with Speexx to put on such a great event aimed at the HR and L&D communities. Digital transformation, reskilling and upskilling, and navigating the new normal are on the minds of every OpenSesame customer. There is a natural synergy for us to partner with Speexx, a leading publisher in corporate training," said Tounsi.
Registration for Speexx Exchange is free. Seats are limited both online and offline. Sign up here: https://www.speexx.com/exchange-conference/
About OpenSesame
OpenSesame helps develop the world's most productive and admired workforces through powerful workforce eLearning in every industry. With the most comprehensive catalog of eLearning courses from the world's top publishers, OpenSesame's learning experts guide global companies every step of the way. From finding the course to mapping them to core competencies, syncing them with an LMS to increasing utilization and improving L&D programs. OpenSesame provides the flexibility of multiple purchasing options with simple to use and administer eLearning courses. In a moment of an increasingly virtual workforce, OpenSesame has added even more Global 2000 brands. And with over 25,000+ OpenSesame catalog courses, the eLearning platform touches all industries in all markets. The company is defining a new era of engaging a people-first talent force. To learn more, visit opensesame.com.