Is Your HR and L&D Capitalizing on Digital Transformation?
An interview with Geoffroy de Lestrange of Cornerstone OnDemand
Organizations across Europe have embraced innovation to thrive – and survive. More than nine in ten organizations in Europe have introduced digital transformation, ranging from 98% of organizations in Spain to 80% in Belgium.Yet, the hoped-for positive impact on employee happiness is not materializing widely and the fear is that this will hamper crucial innovation. CornerStone OnDemand's Geoffroy de Lestrange will explain the reasons for this disconnect at the Speexx Exchange conference in December.
Cornerstone OnDemand commissioned research company IDC to survey 1,900 HR, business and IT executives in 14 European countries. Ahead of Speexx Exchange, Geoffroy de Lestrange gives us a preview of some of the results.
Can you tell us more about the findings of this major research project?
The report identified four 'innovator archetypes' HR and L&D professionals must work with to create a culture of innovation and lead their business to success in the age of digital transformation. These are described in terms of musical genres – Rock, Classical, Salsa or Electronic.
What is the connection between effective digital transformation and business success?
How do you define and measure 'happiness' at work?
Happiness at work is commonly defined through engagement scores, but the new innovator archetypes dig a little deeper. Defining employee happiness in terms of how proud employees feel working for their employer, whether or not they considered their workplace attractive and if they were likely to recommend their employer to others, brought surprising results. In most European countries, the majority of the workforce was mostly unhappy. Only two European regions achieved a happiness score of more than 50%.
When an organization has little remaining budget for digital transformation, what can they do?
Improving the alignment of digital transformation with human capital management does not necessarily require further expensive investment. For example, if employees are given more autonomy, happiness and engagement scores tend to rise. Employees feel they are valued by their organization and that they have some control over their work-life balance. Increasing digitization of the workplace means that it is quite easy for most office-based workers to work and learn at home. However, where an organization has a very traditional approach to controlling individual employees' time management, a cultural transformation may be necessary to build trust that employees will get the work or learning done – even if they are working at home when they might pop out for a medical appointment or to do the school run.
HR and L&D professionals working with employees in a factory or retail environment may think this does not apply to them. In fact, autonomy is equally important in any working environment. So, in a retail environment, HR and L&D professionals might consider providing WiFi in the retail space so that employees can carry out mobile learning on the job. In a manufacturing environment, employees might be encouraged to work in teams to set their own working hours to suit individuals better. One person may want to work more hours one week and fewer the next. Or, employees may wish to avoid long breaks between shifts sessions that cause them to be away from home for 14 hours at a time.
HR and L&D could improve efforts in fostering employee engagement to drive innovation. What advice can you give on this?
HR, Business and IT need to align to drive innovation now more than ever. But HR and L&D professionals are continuing to fall into the same old traps, preventing them from capitalizing on digital transformation.
It's important to take the time to outline these traps and recognize the best course of action to avoid the pitfalls and maximize investment in digital transformation. A common trap which organizations fall into, is introducing digital learning platforms while continuing with traditional performance management processes. So, an employee may have a performance review in January when it is mandated that they start to learn a second language – at a two-day course in June. With today's mobile digital learning platforms, the employee could have begun learning the very next day.
As we enter the fourth industrial revolution, organisations across Europe must embrace innovation to thrive – and survive. To explore this new reality, Cornerstone OnDemand, along with IDC,  has conducted one of the largest surveys on HR and business in Europe. Speexx looks forward to welcoming Geoffroy de Lestrange to Speexx Exchange in December, when he will present the research findings and make practical, actionable recommendations.
During his presentation, Geoffroy will explain IDC's Innovator Archetype Model, how digital transformation is happening across Europe and how it impacts employee happiness. You'll also learn more on how talent development and management can impact the success of an organisation, and why HR, Business and IT need to align to drive innovation.
Save your seat now for Speexx Exchange on December 5th in Berlin, and join us in discussing the Culture of Digital Transformation in HR and L&D.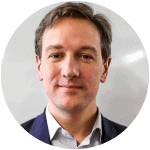 Geoffroy de Lestrange has 20 years' experience in IT in various European countries as marketing manager and CRM project manager. He is now in charge of product marketing and analyst relations at Cornerstone OnDemand for Europe. The impact of technology in Human Capital Management is one of his favorite speaking topics.